The following article was taken from KARE 11 News by Jana Shortal
Tom & Jeri's Construction was featured in the article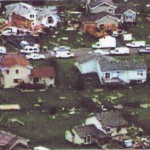 Storm Victims need to be thorough and careful when filing insurance
Half the houses in Fridley are still without power two days after two tornadoes and strong winds pounded the north metro.
Residents are finding ways to cope with the outage. Some have generators and others are roughing it.
Wednesday night's storm knocked out power to more than 200,000 Xcel customers and as of Friday night, there were still more that 50,000 without power.
It could be days before poser is fully restored and it could be years before all of the damage is fixed, according to some insurance adjusters.
And it's not just the obvious destruction you need to worry about, it's also the damage that's a bit harder to see that also a major headache.
In a few areas, some might say it looks worse than it is but in other places, it is worse than it looks.
"I see multiple damage here, 20 hits per panel of golf ball size hail hit this house," said contractor tom Norman.
"Of course this house is livable and everything on the inside is safe, but these hail hits are a big deal," said Norman. "For a house this bad I would bet the roof is bad enough and has damage too.
Norman says any house with aluminum or steel siding needs to be looked at carefully. He said look close, with a light if you need to and make sure you find the hits if they are there because if you don't, it's your loss and it coud be thousands of dollars of a loss at that.
Bruce Gordon of the Minnesota Department of Commerce says if people find damage they need to call their insurance company.
Insurance adjusters are going to be busy, so keep in mind that once you call them, it could be up to a week before they show up for hail damage.
In the meantime, Norman suggests calling a contractor who may have more time to go over your entire house more thoroughly than an agent.
"Lot of time the insurance companies get so many claims they don't have time to look at areas you don't specifically point out and they might look over them," said Norman.
For instance, if you know you have siding damage and call that in, but don't mention the roof, well then your roof might not get checked.
Once you settle a claim, you can't go back and make another one, so be certain you are thorough.
So, be patient and remember the damage done in an hour on one night will take much, much longer to repair.
Insurance agents from other states are coming to Minnesota to assist agents here. On Friday, American Family agents from Wisconsin are on their way to Minnesota.